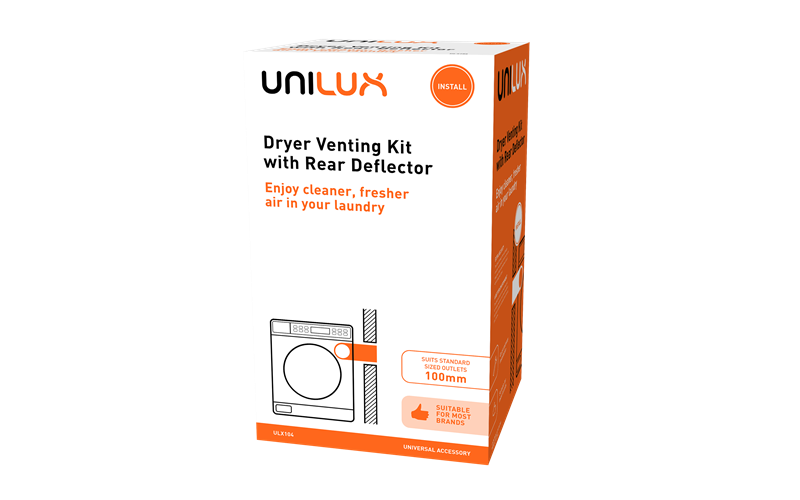 ULX104
Universal Dryer Venting Kit with Rear Deflector
Universal Through-the-Wall Dryer Venting Kit with Rear Deflector
Key Benefits
Enjoy cleaner, fresher air in your laundry
Moist air is directed outside of the laundry space, helping to prevent mildew on your walls and avoid unpleasant odours.
Key Benefits
Dust free laundry
Lint and fluff is captured through the vent during your laundry cycles to prevent them entering your laundry air.
Key Benefits
Quiet machine operation
Maximum exhaust air flow is achieved with the 3 louvred vent hood, meaning your machine operates quieter.
Key Benefits
Hassle-free drying
Clever through-the-wall ducting design offers peace of mind, allowing you to keep doors and windows closed while using your dryer.
Key Benefits
Premium venting
Made with premium quality expandable aluminium venting, rest assured it will be a lasting venting solution.
Key Benefits
Suitable for most brands
Designed to fit most dryers with a standard 100mm diameter outlet.
Key Benefits
Quick and easy to install*
Easy and efficient installation process. With minimal tools and assistance required. *You may require lifting assistance.
Key Features
Clever through-the-wall ducting
Directs moist air outside of the laundry space
Venting system captures lint and fluff fibres
Quiet machine operation
premium alumunium expandable ducting
PRODUCT PROFILE
Domestic warranty details (yrs)

1
Product Relates to

Dryer
Install, Perform, Care

Install
FEATURES
Accessory Other Features

Flexible hose, Universal, Suitable for models from most brands, May require assistance moving appliances when installing