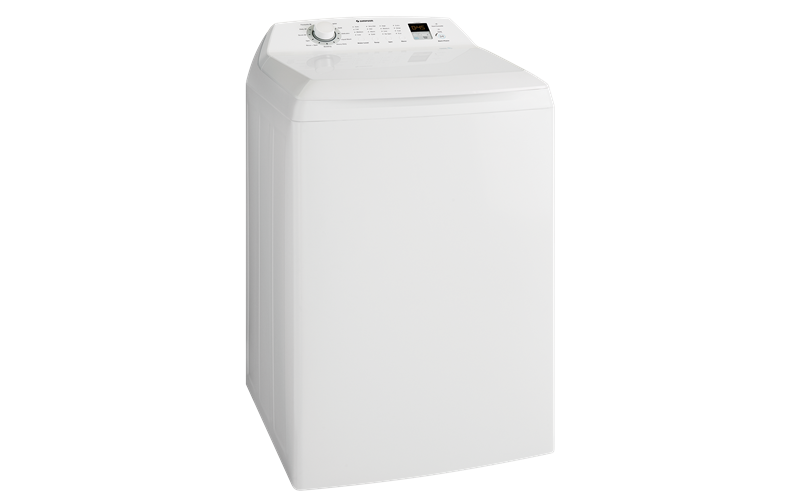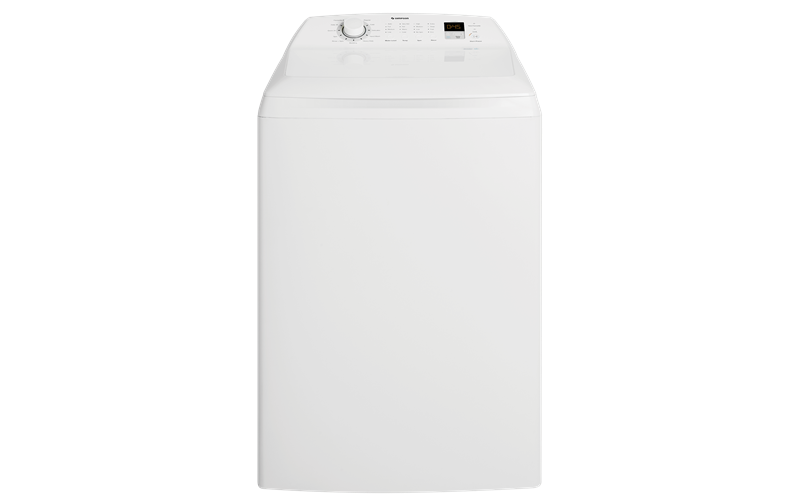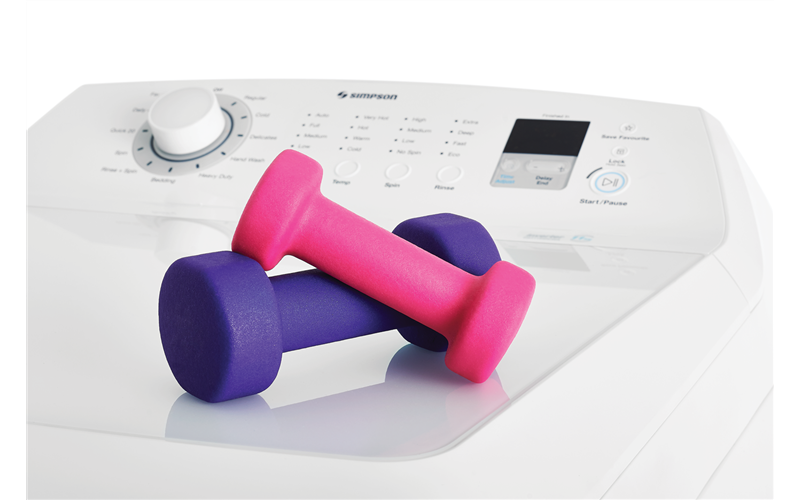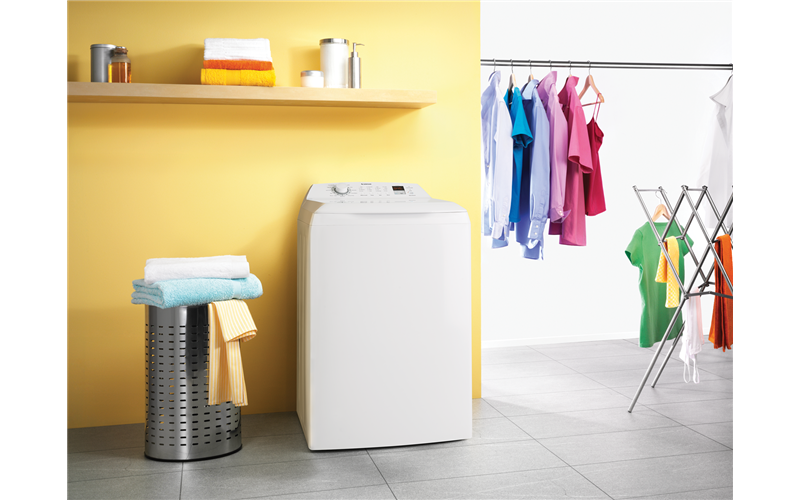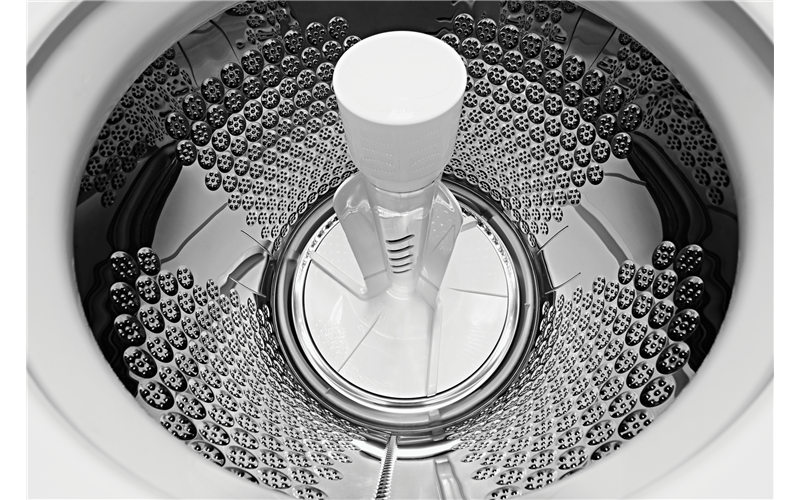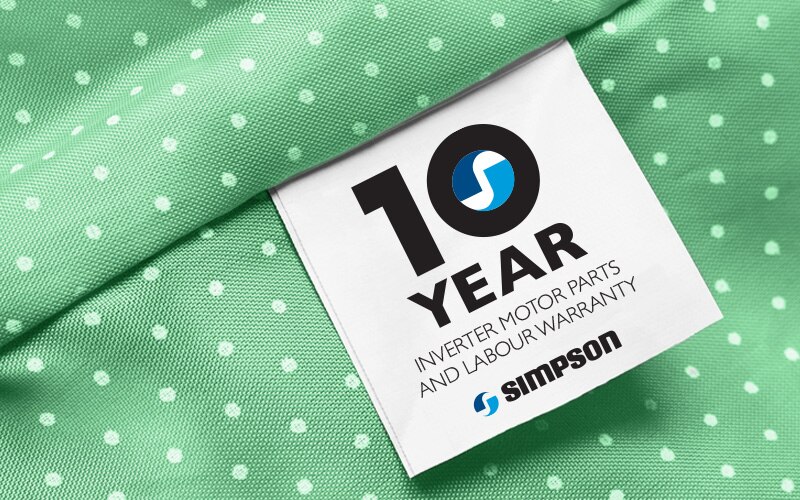 SWT1154DCWA
11kg EZI set top load washer
11kg EZI Set top load washer
is rated out of
5
by
69
.
Huge 11kg capacity top load washing machine with 4 energy star & 3.5 WELS rating. EZI set controls, inverter motor, time adjust function, everyday fast wash programs and durable soft close glass lid.
Key Benefits
Agitator wash action
With a gentle and effective agitator wash action, all of your clothes are in safe hands. Our proven top load washer agitator system ensures your entire load is washed evenly and gently. The agitator helps to prevent tangling during the wash and spin cycles.
Key Benefits
Simply save and use your favourite program with one touch
Save time and make life a little easier by saving your favourite wash program. This easy to use feature allows you to save your most used cycle and then use it at the touch of a button.
Key Benefits
Effortlessly organise your busy life
Let us help you stay organised. With Time Adjust, you can increase or reduce the total wash times to fit into your life. Plus, when used with the clever Delay End function, you can even decide when you want it to end. Now that's convenient!
Key Benefits
Save time with fast wash programs
Sometimes you just need to get a few things clean fast and that's where the super Quick 20 minute program comes in handy. The Daily 45 minute program is ideal of your regular loads.
Key Benefits
Durable and easy to clean premium lid
The toughened glass lid is not only stylish but durable. Its scratch resistant flat surface can be used as an additional work space in your laundry room and best of all its easy to wipe clean.
Key Benefits
An inverter motor that really lasts
Enjoy better care for your clothes with our super efficient inverter motor. It's not only durable, but also saves on energy too. So reliable, it has a 10 year parts & labour warranty on the inverter motor.
Key Features
A control panel that is easy to use
Agitator wash action
Soft closing lid
Auto water level sensing
Quick 20 minutes program for small loads
Delay end option to plan when your wash finishes
Time remaining display
No mess detergent drawer
Save your favourite program
Rated

4

out of

5
by
Deb 63
from
Good features
I only bought this a month ago, but happy so far have done some large loads and apart from a small squeak as it washes am happy with it.
Date published: 2022-04-14
Rated

5

out of

5
by
tonymac
from
only 2 things i dont like
only 2 things i dont like it locks the lid i bought a top loader because i dont like this feature on front loaders and for some reason it starts and stops the water flow a number of times when starting a cycle it doesnt sound good on the pipes in the wall
Date published: 2022-04-11
Rated

4

out of

5
by
Vlasta
from
Great size
Love the simplicity of this washing machine, the size is fantastic! Not impressed with how long it takes to do a load though, timer also lies, it will say 5 minutes left, but it will take another 20
Date published: 2022-04-10
Rated

5

out of

5
by
Queendaffy
from
Amazing washing machine
I bought it a year ago but only set it up 6 months ago, it's such a great machine and very very happy with it. The settings are so good and I'm happy I bought a Simpson. I had a Simpson dryer in the 90s and lasted 18 years before the belt broke and died.
Date published: 2022-04-10
Rated

4

out of

5
by
gp14
from
Easy to use.
Machine is functioning well, I find the stop/start water at the beginning a little annoying, I think this function is to clear the powder from the dispensing drawer. It doesn't spin as dry as my past machine (F&P).
Date published: 2022-04-07
Rated

3

out of

5
by
Ag1977
from
Doing the job
Find it a little noisier than my past machine (fisher Paykel), not too loud and disappointed that when you pause a wash the lid does not unlock
Date published: 2022-04-07
Rated

4

out of

5
by
Bella B
from
Easy to follow features
Good machine, quiet, simple instructions. Capacity excellent.
Date published: 2022-04-03
Rated

5

out of

5
by
Ankles
from
Great machine!! Love it
Very happy with this washing machine Just hope it last
Date published: 2022-04-03
Rated

2

out of

5
by
Kelli
from
Disappointing
I've had Simpson washers for decades and have been very happy. The most recent washer is very disappointing. I don't think it cleans as well, it leaves rinse product in the reservoir (as though it hasn't been used). I am very disappointed.
Date published: 2022-04-03
Rated

4

out of

5
by
Debs
from
A step backwards
I bought this Simpson to replace our 27yr old 'Simpson Encore'. I am disappointed with virtually everything about it compared to the old one. They have gone back to a dial instead of a flat push button control. The auto water is not enough to get things clean or rinse properly and I need tongs to reach the bottom of the bowl.
Date published: 2022-03-31
Rated

5

out of

5
by
Queen
from
Great machine
Great machine cleans really well and very quiet. Couldn't recommend it enough.
Date published: 2022-03-29
Rated

1

out of

5
by
Dissatisfied customer
from
Disappointing
Leaking water onto floor from brand new. Went back to shop and they said because I live 40km from town repair man will take a long time to come check. Last one I will buy.
Date published: 2022-03-26
Rated

2

out of

5
by
Tonym
from
NA
Bought in nov 2021. Out of stock del in feb2022. When delivered it was crushed at back by forklift.was returned damaged.second unit del again late at night by appliances on line.could not inspect it still shows signs of light crushing of ends.no compensation for lateness of del by aol.long time Customer of Simpson products. Could do better both AOL and Simpson
Date published: 2022-03-22
Rated

5

out of

5
by
Meltommick
from
Great features
I bought this machine a month ago. Because my other died 3yrs old
Date published: 2022-03-19
Rated

4

out of

5
by
Monalisa62
from
Great value
It is quiet , efficient and reliable. Very easy to use - uncomplicated settings
Date published: 2022-03-18
Rated

4

out of

5
by
Mc20
from
Easy to use
I've always owned a Simpson and have been satisfied
Date published: 2022-03-16
Rated

5

out of

5
by
Jintyinoz
from
Super quiet
I bought this 11kg washing machine several weeks ago, I love how quiet it is and how my quilts easily fit
Date published: 2022-03-08
Rated

5

out of

5
by
Queen Bee
from
Great machine - I love the auto load function
I replaced my 9 year old Simpson machine with this one
Date published: 2022-03-04
Rated

5

out of

5
by
Alexa
from
Hard working!
This washing machine is great if you have a big household with lots of kids or students. Great range of settings for everyone needs and has no problems with big bulky loads of sheets or towels.
Date published: 2022-03-02
Rated

5

out of

5
by
Mim69
from
Quieter
Just purchased my Third Simpson washing machine.I am so happy with it and it's a lot quieter.
Date published: 2022-03-02
Rated

1

out of

5
by
JanineMc
from
Totally Disappointed
I bought this washing machine because I was not happy with a front loader. The reason I chose Simpson is because I had previously had a Simpson that lasted over 20years. I received my new machine in Oct 21 a few weeks in I started hearing a load grinding noise. Called Simpson under warranty took a few wks for service to take place & then the service technician did not fix the problem. Had to call service tech again for him to say he had to order part. Not sure why the part was not ordered on 1st visit!! Not acceptable that a new machine has to be fixed within 3months of purchase.
Date published: 2022-02-05
Rated

5

out of

5
by
Mila C
from
Amazing family sized machine!
Great buy, suits a large family, quiet and quick. Cleans the clothes really well. Would recommend!
Date published: 2022-01-26
Rated

4

out of

5
by
Ebony13
from
Ease of use
Uncomplicated and simple to use , it's a good size, quiet and very efficient.
Date published: 2022-01-22
Rated

1

out of

5
by
ADZ1
from
ELECTROLUX / SIMPSON - DO NOT BUY !
Just after a year of purchase of this product an E50 fault error (which is a major motor fault error) arose. A technician was sent out and got it going again. Months later the machine broke down again with water flowing from the bottom of the machine flooding the entire laundry and surrounding areas. There was only a light load in the machine at the time. The same technician was again sent and confirmed to us there was a major issue which he could not fix. Now going through a painful process with Electrolux to try and get our money back. Prevan (the rude Electrolux consultant) confirmed Electrolux will take approx. 6 weeks to assess whether we get a refund back. He could not tell me what I should do in the meantime ... His supervisor (Noelle) was supposed to call me back within an hour - that did not happen. I have spent hours on the phone waiting. When it tells you the wait time is greater than 30mins, don't be fooled it could take more than 1.5 hours each time you call. After 1hr and 21mins, Mark answered and disconnect the line before I could tell what was wrong. I had to start the process again! Perhaps the call volumes would not be as high if the Electrolux /Simpson products were better ! DO NOT BUY THIS OR ANY ELECTROLUX / SIMPSON PRODUCT ! Save yourself the hassle.
Date published: 2022-01-17
Rated

2

out of

5
by
Unhappy Carolyn
from
Very disappointed
Auto water level feature is terrible. Doesn't fill with enough water to was clothes properly. With Auto mode, everything comes out with dry patches of fabric and dry washing powder. Every time I use this machine I have to select a program that will allow me to manually select the water level I want. I cannot use the 20 Min or 45 Min fast wash because it won't allow any other water level than Auto, which doesn't wash properly. I am sorry I purchased this machine.
Date published: 2022-01-16
Rated

5

out of

5
by
RickyBobbi
from
Great Features
I bought this job a month ago and i was very happy with it, it does the job very well
Date published: 2022-01-11
Rated

4

out of

5
by
Tibby54
from
Very simple to use, great features.
Been using this for just over a month now. I don't have a a single complaint. It is a great machine so far. Love the ability to set a custom favourite wash setting. It's quieter than I expected for the size. Based on my use so far, yes I'd recommend it to anyone wanting a big but efficient top loader.
Date published: 2021-12-31
Rated

4

out of

5
by
Blitzgritz
from
Washes well ...but not suitable for single people
Good things - washes well great lint filter Not so good- child lock is a pain...especiallly if you don't have kids When filling with water ....too many steps to open lid and add more clothes due to child lock Timer is incorrect...says 1 minute to go....but more like 4-5 minutes No soak cycle...which would be good. No wool cycle...although it does have a delicate cycle....but most people understand the words "Wool Cycle" I miss my Maytag washer....so easy...
Date published: 2021-12-21
Rated

1

out of

5
by
Falfal69
from
None as it don't wash properly or and stops workin
I've had nothing but trouble with the washing machine
Date published: 2021-12-21
Rated

1

out of

5
by
Gaffo
from
Dissapointed
Many cycles showing errors. New machine. Have to book a service.
Date published: 2021-12-12
PRODUCT PROFILE
Domestic warranty details (yrs)

2
Capacity (Kg)

11
DIMENSIONS
Total height (mm)

1076
Total width (mm)

670
Total depth (mm)

680
Height with lid open (mm)

1490
Depth with hoses (mm)

730
ENERGY
Energy Star Rating

4.0
Energy consumption cold water (kWhr/yr)

144
Energy Consumption Warm (KWhr/yr)

364
Water efficiency star rating

3.5
Water consumption (litres)

134
WASH PROGRAMS
Number of Programs

11
Toploader Wash programs

Delicate, hand wash, Rinse & Spin, heavy duty, Regular wash, Cold wash, Bedding, drain and spin, Daily 45, Quick 20, Favourite
Wash options

wash temperatures, variable water level, Rinse option, spin selection
weight (kg)

11
Dispenser

bleach dispenser, Softener dispenser, Powder or liquid detergent dispenser
On screen stain guide

No