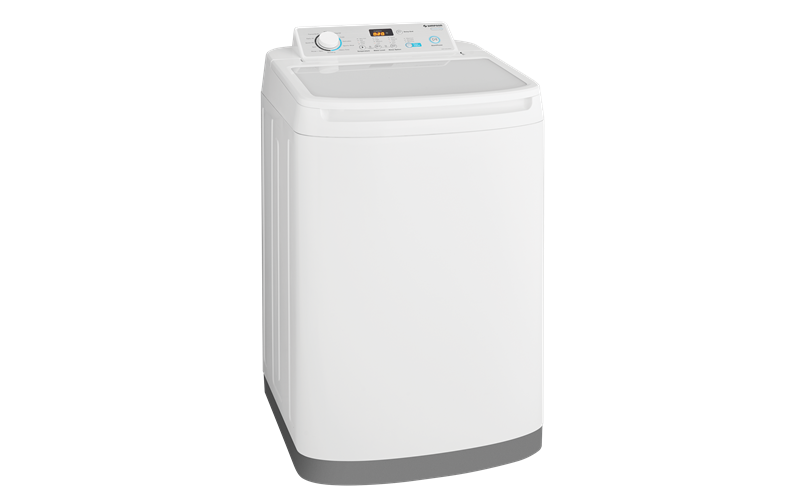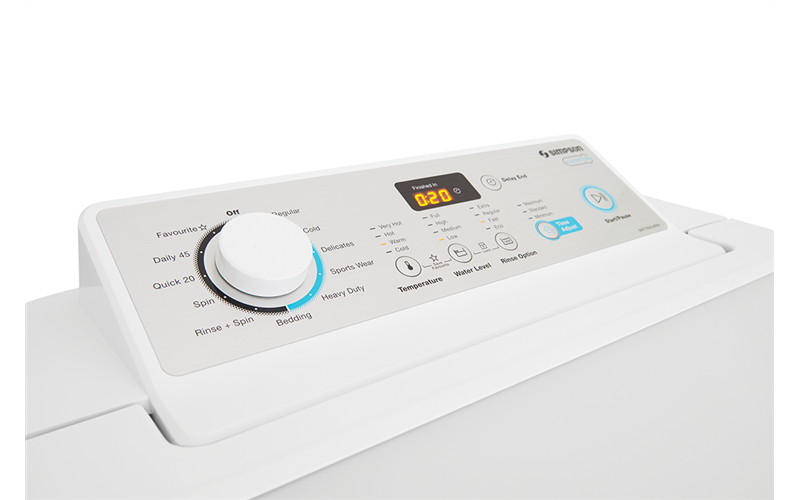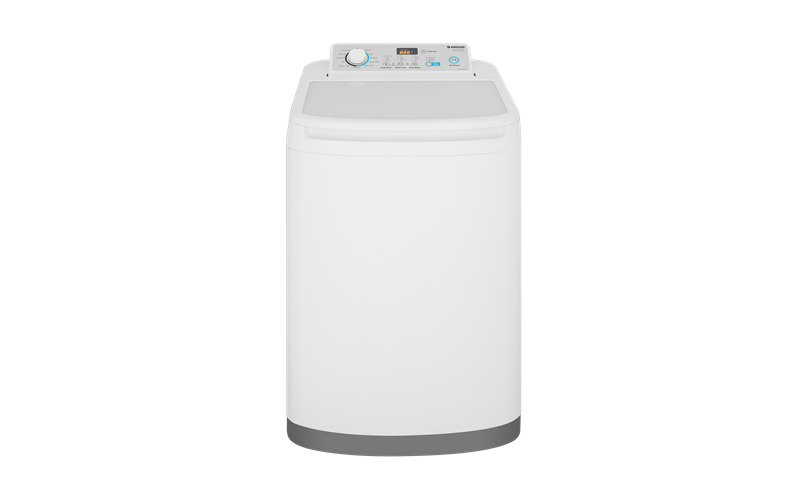 SWT7055TMWA
7kg EZI set top load washer
7kg EZI Set top load washer
is rated out of
5
by
58
.
7kg capacity top load washing machine with 2.5 energy star & 3.5 WELS rating. EZI set controls, time adjust function, everyday fast wash programs and durable soft close glass lid.
Key Benefits
Durable lid to take the weight
You will open and shut the lid of your washing machine thousands of times. So the EZI Set washing machine features a redesigned lid that is not only stylish but also durable. It will easily withstand a basket full of wet towels thrown on top.
Key Benefits
Better results with a new gentler drum
Designed to treat your clothes with the care they deserve, the gentle drum has thousands of holes to enhance the water flow rate so that detergent dissolves faster. This improves effectiveness and ensures a deeper clean.
Key Benefits
EZI Set controls
Enjoy great results at the touch of a button. With everything you need at your fingertips, the full-touch controls are easy to use and help you get your washing done faster. Simply work your way from left to right, set your wash and go. Plus, a quick wipe down is all you need to keep things clean.
Key Benefits
Durable and easy to clean premium lid
The toughened glass lid is not only stylish but durable. Its scratch resistant flat surface can be used as an additional work space in your laundry room and best of all its easy to wipe clean.
Key Benefits
Save time with fast wash programs
Sometimes you just need to get a few things clean fast and that's where the super Quick 20 minute program comes in handy. The Daily 45 minute program is ideal of your regular loads.
Key Benefits
Don't wait for a wash to finish
All EZI Set models feature a time remaining display so you don't have to wait around for a wash to finish. You can better plan your day and get on with things you'd rather do.
Key Features
Wash options you really need
Fast wash program
Delay end option to plan when your wash finishes
Gentle drum
Delicates wash program
Reduce wash time option
Rated

5

out of

5
by
Junior
from
Great washing machine
Easy to use and a great merchandise. Quick to install THANK YOU
Date published: 2021-06-08
Rated

1

out of

5
by
Jill
from
Not happy
I bought this machine 2 months ago and do not like it at all. I have used Simpson washing machines for 50 years and did not hesitate to buy another when our last one ( aged 15 years) was rusting under the lid. Reasons I am not happy with new one are : spins too fast and cannot change spin speed. On Delicates cycle can only have cold water. Bashes clothes and I am shocked at the amount of lint being collected. Even on Delicates cycle clothes come out creased. The result is I am only using the Quick or Daily cycles, and would never risk washing any clothing I treasure in the Delicates cycle even if it is labelled machine washable.
Date published: 2021-06-07
Rated

5

out of

5
by
leonie mealand
from
simpson washing machine
love the product and the service was awsome the guys were on time a great help and went above and beyond. would highly recommend on line appliances
Date published: 2021-06-02
Rated

3

out of

5
by
Bubbles
from
Wouldn't buy this machine again
Machine continually making weird noise Cant adjust water levels to suit me as they are all programmed
Date published: 2021-05-31
Rated

5

out of

5
by
Sharon
from
Works like a charm!
So happy with this washing machine. So much more reliable than the old "electronic panel" one (different brand). Washing really clean.
Date published: 2021-05-20
Rated

5

out of

5
by
Pam2
from
Easy to use
So easy to set for an old lady and so quiet in use.
Date published: 2021-05-16
Rated

4

out of

5
by
Fengbingyi
from
Thanks
Quick delivery, kind attitude, machine runs well so far.
Date published: 2021-05-07
Rated

5

out of

5
by
Suzanne
from
Love Simpson products
I have used Pope-Simpson washing machines for fifty years. Best ever.
Date published: 2021-04-28
Rated

5

out of

5
by
Supermum
from
Fantastic Washing Machine
My new Simpson washing machine arrived three weeks ago and I couldn't be happier with it.It has all the features I could possibly want and more. I have used it several times using different settings and every wash has come out brilliantly. I would thoroughly recommend this machine.
Date published: 2021-04-14
Rated

1

out of

5
by
Dallas
from
So Dissapointing
This machine brand new attempted 3 washes and completely wrecks the clothes on spin and does not dry have to wait 3 weeks for a call out so disappointing cannot wash in the meantime
Date published: 2021-03-31
Rated

5

out of

5
by
Barnacle
from
Great little unit, very happy!
I have been very happy with this Simpson 7 kg made in Thailand top washing machine. I absolutely love the central agitator, keeps the drum balanced when spinning and clothes clean. You can adjust the setting to shorten or lengthen the cycle. It comes with the lint filter, fitted inside the central agitator and easy to access and empty the lint after every wash. It does its job really well and cheap to replace if it is broken.
Date published: 2021-03-29
Rated

4

out of

5
by
Stuart
from
Simpson 7kg Top Load washing machine.
Pleased with our purchase. Easy to operate after using a front load for the last seven years with bending down.
Date published: 2021-03-09
Rated

4

out of

5
by
alps1
from
It is very neat.
I did want a 7.5 sized washing machine but wasn't able to get it but I am now very happy with the 7.00 as the 8.00 was just a bit too big. It does everything I want it to do.
Date published: 2021-02-11
Rated

2

out of

5
by
Teee
from
Pre-Set Cycles Take Too Much Time
In a 2-person house I would prefer a 5kg washing machine, especially as I only do small loads. (My husband picked this 7kg machine, not me). With the large 7kg machine: For me there is an issue with the long length of TIME using ELECTRICITY and WATER using with the pre-set time settings. With the 7kg machine: I only use the "QUICK 20" (minutes) setting to cut down on power and water usage. This "QUICK 20" pre-sets a Low Water setting but the water level easily accommodates towels or queen size sheets. With the "COLD" setting using the "Regular" and "Standard" buttons - it's pre-set to 1-hour, 3-minutes! Using the Fast button the time becomes 1-hour and by hitting the "Eco" button - the "COLD" cycle takes 1-hour, 6-minutes. With the "DELICATES" setting using the "Regular" and "Standard" buttons - the pre-set time is 52 minutes and using the "Eco" button takes the time to between 47-minutes to 54-minutes! There is a setting called "FAVOURITE" to allow you to make your own preferred pre-set wash and time. Also, the rounded metal front body seems a bit too thin and easy to accidentally dent it with a knee. Also, under the Warranty - Electrolux is graciously providing a new plastic lid. The original lid started cracking within the first month, then a second crack developed the second month, now a third crack in third month - all around the same area on the lid!
Date published: 2021-02-06
Rated

5

out of

5
by
Ingrid
from
Nice compact 7kg machine
I purchased this machine after our old machine finally packed it in. It has performed really well so far (about a month in) and I pretty much use the quick wash as my clothes rarely get particularly dirty apart from day to day wear and tear. It's quite compact compared to other varieties so I am pleased with that. I am yet to test it on a larger wash load to test it's "smartness" with regards to water level in the quick wash. If this proves problematic then it will be a lesson learnt.
Date published: 2021-01-29
Rated

5

out of

5
by
Sera
from
Does the job well
Having used the machine for nearly two months it delivers value for money. It is easy to use, looks the part and does a big wash gently and effectively.
Date published: 2021-01-28
Rated

5

out of

5
by
Coso
from
Better than expected
All round excellent so far. Have had it for only 5 weeks but already love the quick 20 minutes cycle. Lint remover works fine. Takes up a lot less space than our last 7.5kg Simpson. We have all positive expectations for this model.
Date published: 2021-01-13
Rated

5

out of

5
by
Shazza28
from
Easy to Use
Purchased about 6 weeks ago as our 15yr old 4.5kg was on its last legs. Always buy Simpson top loader. Much easier to use and don't take forever to wash the clothes.
Date published: 2020-12-23
Rated

5

out of

5
by
neil and maxine
from
Latest features
Happy with machine in respect to the way it functions and the way it looks
Date published: 2020-12-12
Rated

3

out of

5
by
Queensland06
from
SWT7055LMWA
The beeper on the washing machine is complete rubbish the noise is that low you got to be sitting on it.
Date published: 2020-09-11
PRODUCT PROFILE
Domestic warranty details (yrs)

2
Capacity (Kg)

7.0
DIMENSIONS
Total height (mm)

975
Total width (mm)

575
Total depth (mm)

642
Height with lid open (mm)

1375
Depth with hoses (mm)

655
ENERGY
Energy Star Rating

2.5
Energy consumption cold water (kWhr/yr)

133
Energy Consumption Warm (KWhr/yr)

470
Water efficiency star rating

3.5
Water consumption (litres)

85
WASH PROGRAMS
Number of Programs

11
Toploader Wash programs

Delicate, drain and spin, Rinse & Spin, heavy duty, Regular wash, Cold wash, Bedding, Daily 45, Quick 20, Favourite, Sportswear
Wash options

wash temperatures, variable water level, Soak time, Rinse option
weight (kg)

7.0
Dispenser

bleach dispenser, Softener dispenser
On screen stain guide

No